About
Project Shift: Creating a Safer Digital World for Young Women is a national multi-year project, led by YWCA Canada and funded by the Status of Women Canada. YWCA Canada convened cross-sector stakeholders to work toward systemic change by developing and implementing strategies that prevent and eliminate cyberviolence against young women and girls. Project Shift establishes the need for a gender lens to understand violence online and makes recommendations for a range of public and private actors, from educational institutions to parents and information, communications and technology organizations to counsellors and police.
Research
YWCA Canada conducted a needs assessment applying a gender based analysis to the issue of cyberviolence. Girls, young women, subject matter experts from the justice, law enforcement, and information and communication technology (ICT) sectors, along with educators, parents, program workers from across the country participated in consultations to identity gaps, challenges, promising practices and strategies to end cyberviolence.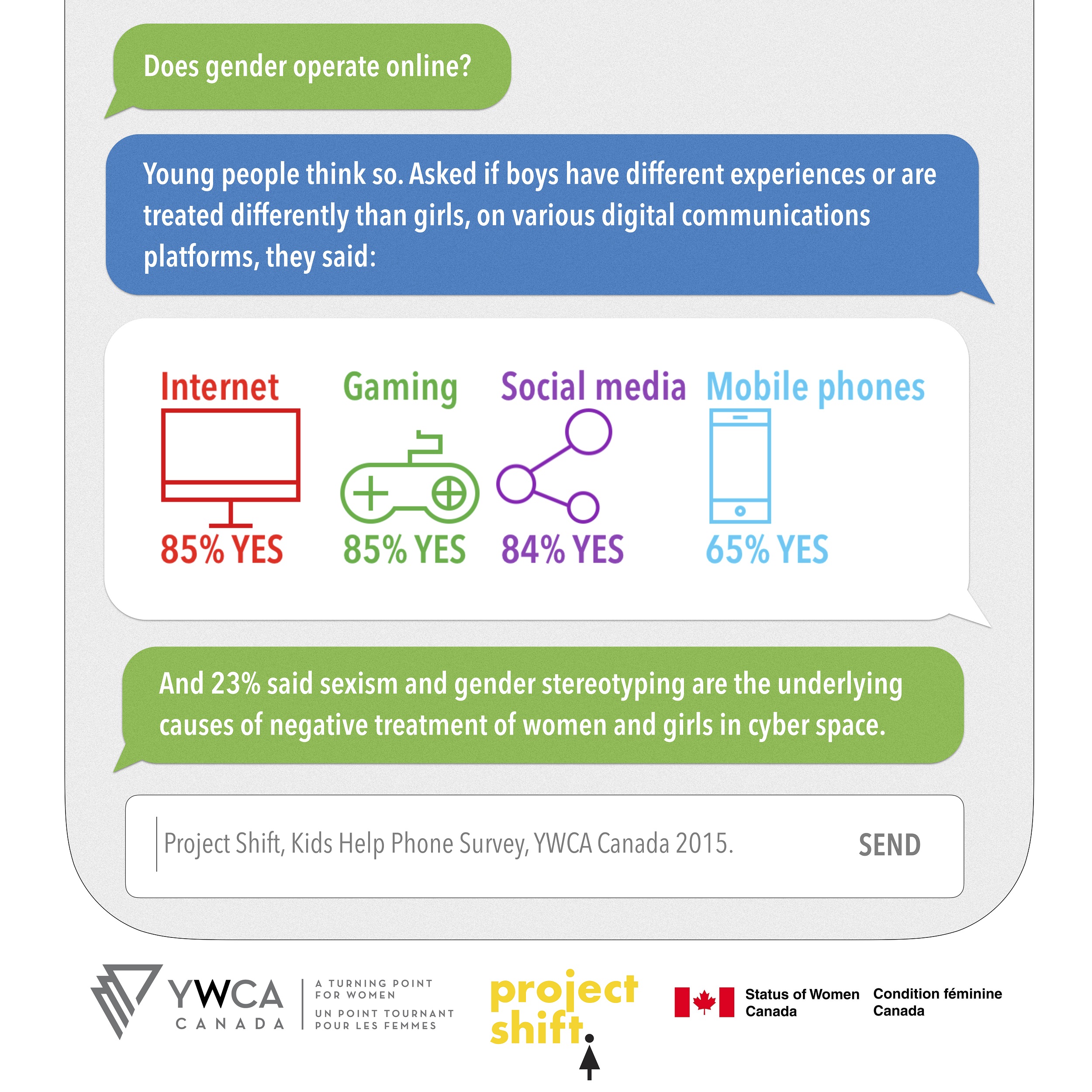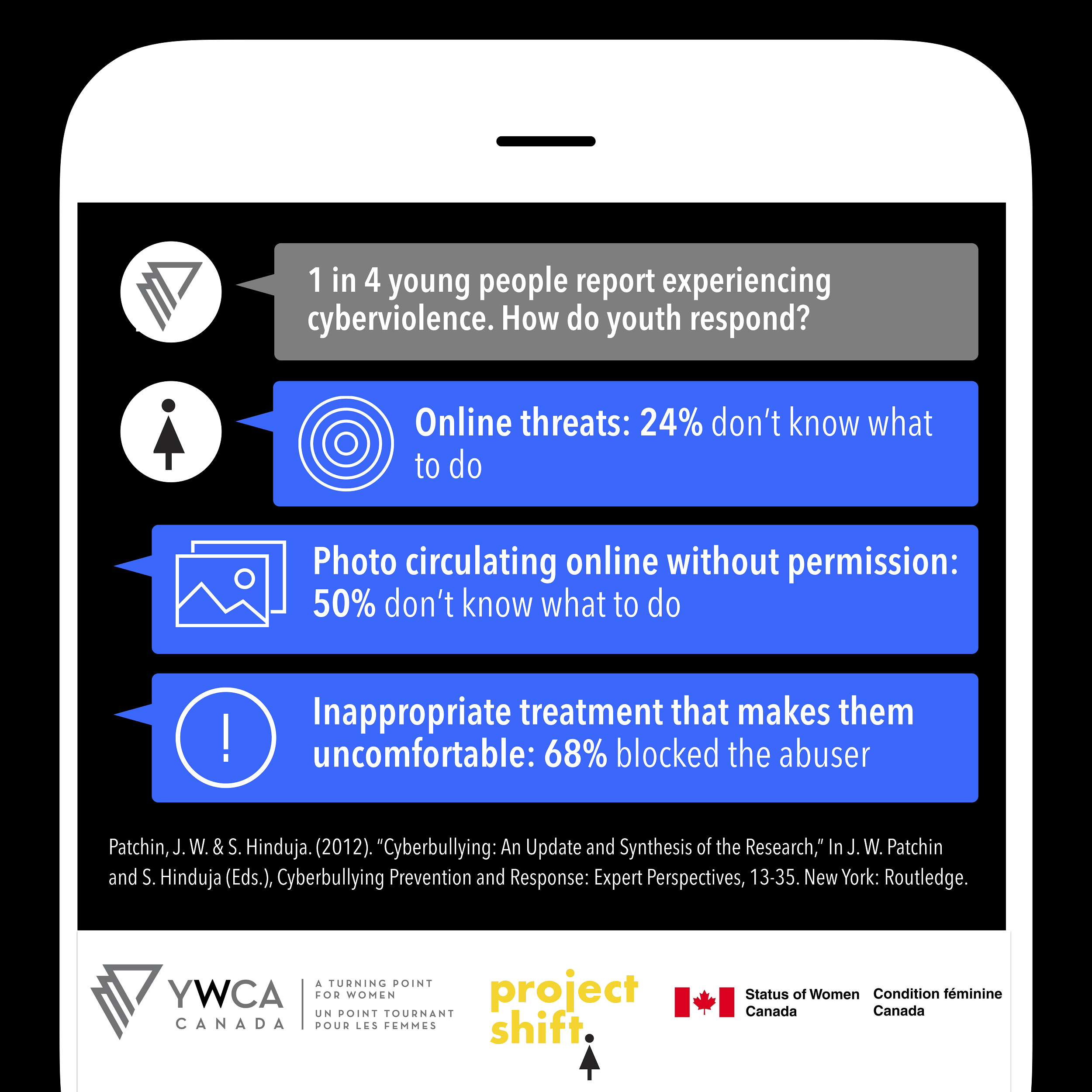 Resources
YWCA Canada and our project partners have developed a range of resources to support girls, young women to stay safer online and for adults to better support young women when an incident of cyberviolence occurs.
For girls, young women and gender nonconforming youth...
YWCA Rights Guide offers information for girls and gender non-conforming youth on rights and laws online, including harassment, protecting online information and much more.
For more resource guides and information to support folks experiencing online gender-based violence, visit our partners:
A Guide for Trusted Adults
Practical Tips and Tools for Supporting Girls and Young Women Navigating Life Online — A woman-centred digital literacy resource to help adults support girls and young women experiencing cyberviolence in a compassionate and non-judgemental way.
Training
People who work in the information, communications and technology (ICT) sector have an incredible opportunity to make the digital world safer for girls and young women.
In June of 2016, YWCA Canada created the Project Shift ICT Roundtable bringing together leaders from 13 ICT organizations, who lead work in diversity, inclusion, product, community development, safety, privacy and public policy. The members have committed to move the needle forward on ending cyberviolence against young women by sharing and developing resources that advance a culture of empathy and accountability in the sector.
In collaboration with the roundtable members, YWCA has developed a training for ICT sector workers complete with sharable tools, templates, and case studies that promote integrating a gender lens and understanding of sex discrimination in the work.
Coming Soon: Shifting the Script-A Training Guide for ICT Sector Workers
If your ICT organization or school/course is interested in booking a Project Shift Lunch and Learn, email raine@ywcacanada.ca.
The following organizations and individuals have signed on as members of the Project Shift Roundtable
Nasma Ahmed (Front End Developer and Activist)
Entertainment Software Association of Canada
Facebook Canada
Hive Toronto, a learning project of the Mozilla Foundation
Information and Communications Technology Council (ICTC)"
Kik
Ladies Learning Code
Microsoft Canada
National Capital FreeNet
Twitter Canada
Uken Games
Universe
Wattpad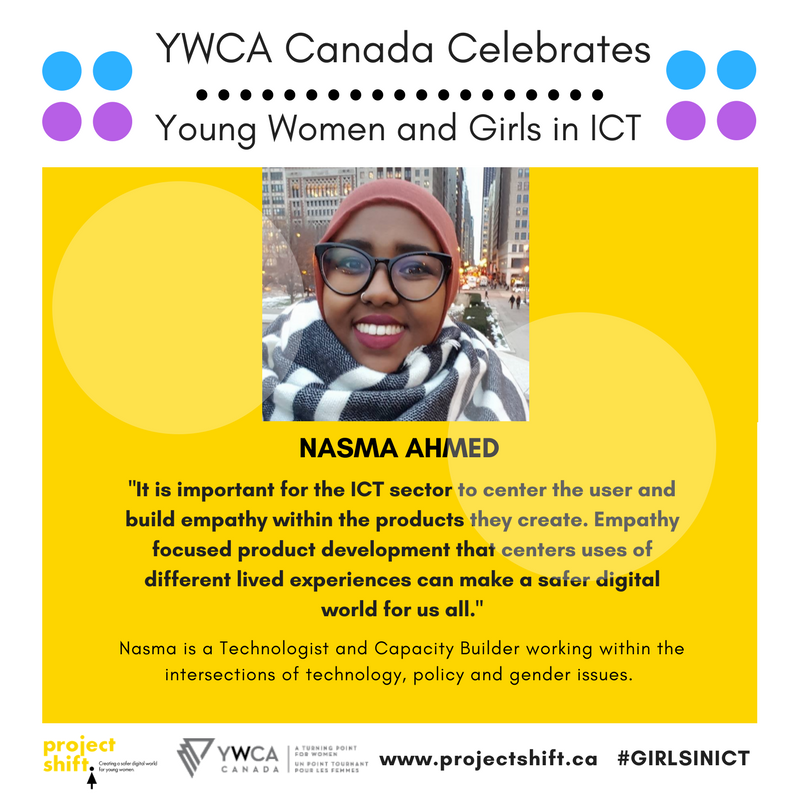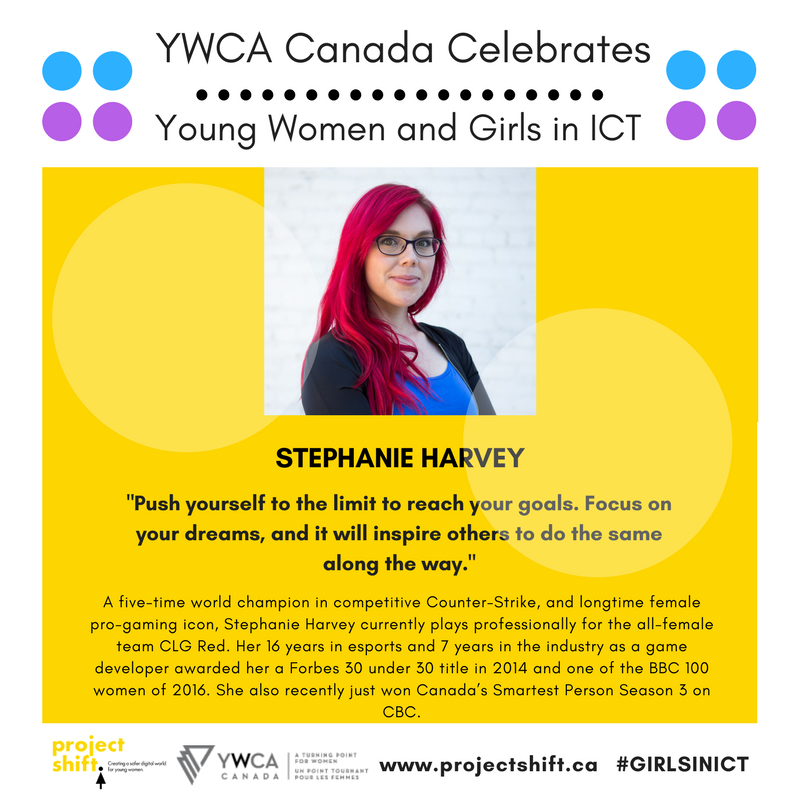 Girls In ICT Day
Project Shift—Creating a Safer Digital World for Young women: Cyberviolence against young women narrows their horizons; it forces them out spaces where they don't feel safe or welcome. It is a violation of their human rights.  Cyberviolence negatively impacts their sense of safety, limiting their access to economic opportunities or contributing to online social discourse.
April 27th is Girls in ICT Day (Information, Communication, and Technology.) On this day, YWCA Canada launched a social media campaign to showcase young women role models who are currently working in ICT. Young women shared their thoughts highlighting the need for the sector be a more welcoming, inclusive and a safer space not only for girls who want to take their place in it in the future, but also for girls and women engaged in digital spaces right now.
Girls in ICT Day provides an opportunity for girls to consider the impact of ICT in their lives and to reflect on the importance of ICTs to their future careers. Across the country, and the world, girls will build their skills in ICT, consider their safety in online spaces, connect with role models, learn coding, app development and other ways to make a difference in the digital world.
Media Releases
"At Facebook, safety is our top priority, and we are so pleased to partner with YWCA Canada and other stakeholders on Project Shift. Working together across sectors and from different perspectives, we can help to keep young women and girls safe online."
Kevin Chan, Head of Public Policy, Canada, Facebook and Instagram
"Creating a safer digital space for girls and young women is important to Uken. As designers and developers of online experiences we want each and every one of our users to feel safe, welcome and able to enjoy their gaming adventure free from violence. We are very excited to be collaborating on this project and will participate to our fullest as agents of change to enhance understanding, promote a culture of empathy and advance the ICT sector on accountability."
Daniela Mahac, People Manager at Uken Games
"Community is at the heart of Wattpad. Since day one we've understood that people need a safe and positive space to feel comfortable sharing their stories. Today, we connect an incredibly positive community of 45 million people. Project Shift allows us to share the lessons learned building this space while collaborating with other leaders to help build safer and stronger online communities."
Wattpad's Head of Community Marc Shewchun
"True access to the internet requires that people feel safe online, and fighting cyberviolence directed against girls and young women is central to that work. We're thrilled to be working with YWCA Canada on such an important project."
National Capital FreeNet's Executive Director Shelley Robinson
Other ICT organizations interested in learning more, hosting a Project Shift Lunch & Learn, or supporting the goal to create a safer digital world for girls and young women in other ways are invited to contact Raine Liliefeldt.
Partners
YWCA Canada would like to acknowledge the contribution of all of our project partners. We are also grateful for the support of the Young Women's Advisory Council, comprised of young women from across the country, for their time and input across project activities. The collaboration of these young women, as well the participation of the partners and advisors listed below, is helping Project Shift to build the momentum needed for systemic change.
Project Partners
4Rs Youth Movement
Canadian Council of Muslim Women
CYCC Network
Disabled Women's Network Canada
Facebook Canada
Gentium Consulting
Girls Action Foundation
Jane Bailey – University of Ottawa, Faculty of Law
Kids Help Phone
Ladies Learning Code
MediaSmarts
Microsoft Canada
Nika Naimi – Consultant & Lecturer, École Polytechnique de Montréal
RCMP Centre for Youth Crime Prevention
Student Commission
YWCA Agvvik Nunavut
YWCA Cambridge
YWCA Halifax
YWCA Hamilton
YWCA Kitchener-Waterloo
YWCA Lethbridge& District
YWCA Metro Vancouver
YWCA Moncton
YWCA Montreal
YWCA Peterborough-Haliburton
YWCA St. John's
YWCA St. Thomas-Elgin
YWCA Toronto
YWCA Yellowknife
National Cross-Sector Advisors
Altus Dynamics
Atwater Library & Computer Centre
Behaviour Interactive
Canadian Women's Foundation
Jeunesse, J'écoute
Manitoba Crown Attorney
Office of the Privacy Commissioner of Canada
UofT Faculty of Information Studies
Voices of New Brunswick Women Consensus Building Forum